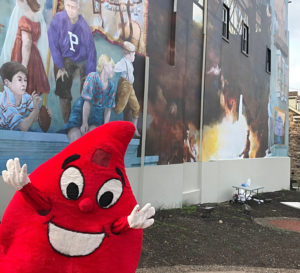 PHOENIXVILLE, PA — Root Down Brewing Company won the voting at the first-ever American Red Cross Battle of the Breweries blood drive competition in Phoenixville on Monday, Oct. 1. However, the real winners are the 150 patients who will benefit from the 50 units of blood collected at the drive.
"The Phoenixville community rallied around the Battle of the Breweries blood drive, and as a result, the Red Cross collected 43 percent over the drive's goal," said Alana Mauger, communications manager for the Red Cross Penn Jersey Blood Services Region. "To the competitors, sponsors and community at large, 'thank you' for your amazing support. We can't wait to see what's next."
During the drive, presenting donors were invited to cast a vote for their favorite craft establishment. Participants included Black Walnut Winery, Bluebird Distilling, Conshohocken Brewing Company, Crowded Castle Brewing Company, Rebel Hill Brewing Company, Root Down Brewing Company and Stable 12 Brewing Company. They were joined by Steel City Coffee House and Your Mom's Place, which offered pre-blood drive food specials; Phoenix Village Apartments, which provided free donor parking; and the Phoenixville Jaycees, which provided organizational and promotional support.
Battle of the Breweries is a friendly competition among craft establishments to see who can recruit the most eligible blood donors to help the American Red Cross meet patients' need for blood. The Phoenixville drive was the first on the East Coast and was only the second in the United States.
For the latest news on everything happening in Chester County and the surrounding area, be sure to follow MyChesCo on Google News.
Thanks for visiting! Looking for some Chester County pride? We got you covered! Shop our MyChesCo store and show your love for Chester County, Pennsylvania. We got shirts, hats, and more – all with a unique ChesCo flair. Plus, proceeds from each purchase helps support our mission of bringing reliable information and resources to the people of Chester County.